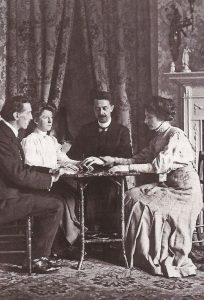 The Autumn breeze rustles the leaves of the nearby trees of the Wynne-Russell House. You can see shadows of two women in the windows of the house, silently moving past one another, lighting lamps in each of the rooms. The two women are sisters named Catherine and Charlotte Wakefield.

They're preparing for tonight. Guests will be arriving soon.. where they will have hors d'ourvers, confections, and wine. They will mingle with other guests, maybe they are strangers now… but soon we will all share the same experience.

Tonight is a night of divination during the Victorian times, and what is a night of spiritualism without a proper seance. Who will the medium call forth? Will the spirit notify us of their presence? Suddenly there's a chill in the air…
Time Travel Events presents… A Night of Victorian Spiritualism, to be held in the 1826 historic Wynne-Russell House in Lilburn, GA. October 20, 2018 at 7pm-10pm. Only 30 tickets will be sold to this event due to the capacity allowed at the Wynne-Russell House. Tickets are $50 per person. 21 and over only.
Each ticket includes:
– Hors d'ouerves, wine, and other beverages.
– Geek Behind the Lens will be on site to take your portrait.
– Access to the end of the night seance
– Tarot card reading
– Other forms of divination through-out the night
– An honorary pin created just for this event. This pin acts as your ticket. It will be mailed to you within one week after ticket purchase.
All within an authentic Victorian setting. Come as yourself or come as a persona.
Victorian attire is not mandatory, but it is recommended. You do want to appease the spirits, don't you?
Ready to buy your ticket? We have only one ticket left. If we have sold out by the time you read this… Twelfth Night is our next event.