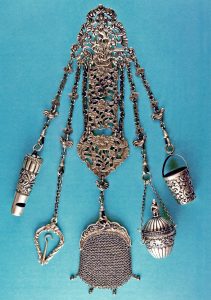 I've organized a few conventions, and the most fun I've had was filling in the details. The mostly unseen items strewn about the con floor, that when it is recognized you can hear a hearty laughter through the hall.
I think that's why I like chatelaines so much. They're the detail of a Victorian lady's outfit. They are the tools that she feels are most important to her. They range from perfume to keys to scissors. What could be worn seemed almost limitless.
Read more about chatelaines here: The Killer Mobile Device for Victorian Women
What would be on your chatelaine?