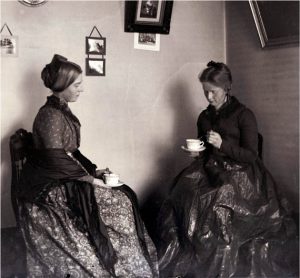 "Lottie, have you seen the posters they put out about us?", whispered Kitty. She felt that raising her voice would cause them to be discovered, and yet it was only her and her sister Charlotte in the house, and the spirits of course.
"I have. There's nothing to worry about. It's only the act of one minister's wife. She attended one of our seances and was upset that her dearly departed brother wouldn't speak.", said Lottie.
She remembered that night fondly. The minister's wife ate all the tarts and her bustle was so large Kitty kept running behind her trying to save furniture. When Lottie had conducted the seance, the wife shouted "Albert! Albert! Is that you?". Lottie couldn't sense Albert was in the room. Sometimes they don't want to talk, and Lottie never makes them. But there was no reasoning with the minister's wife. She blamed it on Lottie, that she was focusing on another guest's requests of a dead husband. Albert was lost in the war… he was a Confederate First Lieutenant! That was far more noble! "Albert! Albert! Where are you?"
Lottie felt horrible, for both the wife and for Albert. But there was nothing she could've done. She conducts seances to bridge the living and the dead for one more conversation. Charlotte Wakefield was a true Christian woman, and wouldn't pretend with table rapping and ethereal figures dancing around. There was no need to falsify the spirits when they truly want to respond.
And now the minister's wife is back with a poster. A WANTED poster. Spiritualism isn't illegal in Georgia. Kitty is worried that backlash will come from it, then again Kitty worries a lot about many things.
"We will have one final gathering Kitty, and then we're done. I believe this is God's message to us. I had a feeling the other day about this, but seeing these posters made it feel that more real. Set a date for October Kitty.", Lottie said.
Catherine went to her desk and jotted down October 20. If this is the last spiritualism night for them, then she was going to bring out all of her divinations as well. Kitty then wonders to herself if Lottie will contact the spirit that has always alluded her…. will he appear?
Join Catherine and Charlotte Wakefield on their Night of Victorian Spiritualism